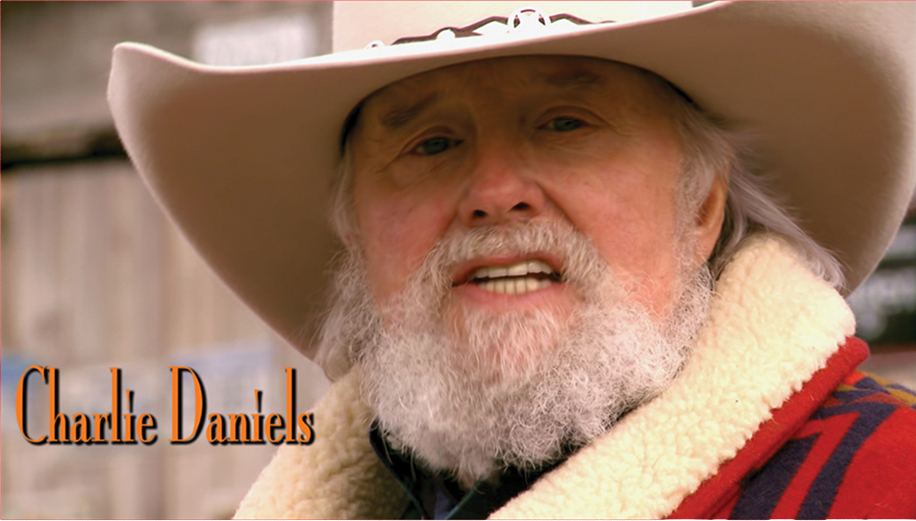 Biography
Few individuals have symbolized the South in popular culture as directly and indelibly as Charlie Daniels. Charlie Daniels is partly Western and partly Southern. His signature "bullrider" hat and belt buckle, his lifestyle on the Twin Pines Ranch (a boyhood dream come true), his love of horses, cowboy lore and the heroes of championship rodeo, Western movies, and Louis L'Amour novels, identify him as a Westerner. The son of a lumberjack and a Southerner by birth, his music – rock, country, bluegrass, blues, gospel – is quintessentially Southern.
His resume includes recording sessions with artists as diverse as Bob Dylan, Flatt & Scruggs, Pete Seeger, Mark O'Connor, Leonard Cohen and Ringo Starr. His songs have been recorded by Elvis Presley and Tammy Wynette. In April 1998, top stars and two former Presidents paid tribute to Daniels when he was named the recipient of the Pioneer Award at the Academy of Country Music's annual nationally televised ceremonies. In 2008, Charlie's life long dream became a reality. He was inducted as a full-fledged member into the Grand Ole Opry. "It is an honor that I can't begin to articulate, there is no way I can express what it means to me," says Daniels "I pursued my dream in music and by the goodness of God have been able to have a wonderful career, which has spanned fifty years."
Charlie also lends his time and talent to numerous other charitable organizations, including the Jason Foundation Golf Classic, an organization that targets teen suicide prevention, and the Galilean Children's Home in Liberty, KY, which provides a home for abused and neglected children.
Each year Charlie also hosts The Charlie Daniels Celebrity Golf Classic & Angelus Concert in Hudson, FL, a benefit for The Angelus, a full-time residential facility and day school program for the severely handicapped. Charlie has been a member of the St. Jude Children's Research Hospital Professional Advisory Board and has been a longtime supporter of the T. J. Martell Foundation and its numerous events aiding cancer research. He's also the headliner every year for the Christmas 4 Kids concert at the Ryman Auditorium, which raises money to provide a happy holiday for needy children.
In 2014, Charlie Daniels co founded The Journey Home Project. Conscious of the need to assist our nation's veterans, they have set out to partner with organizations that do the most good, with the least overhead.