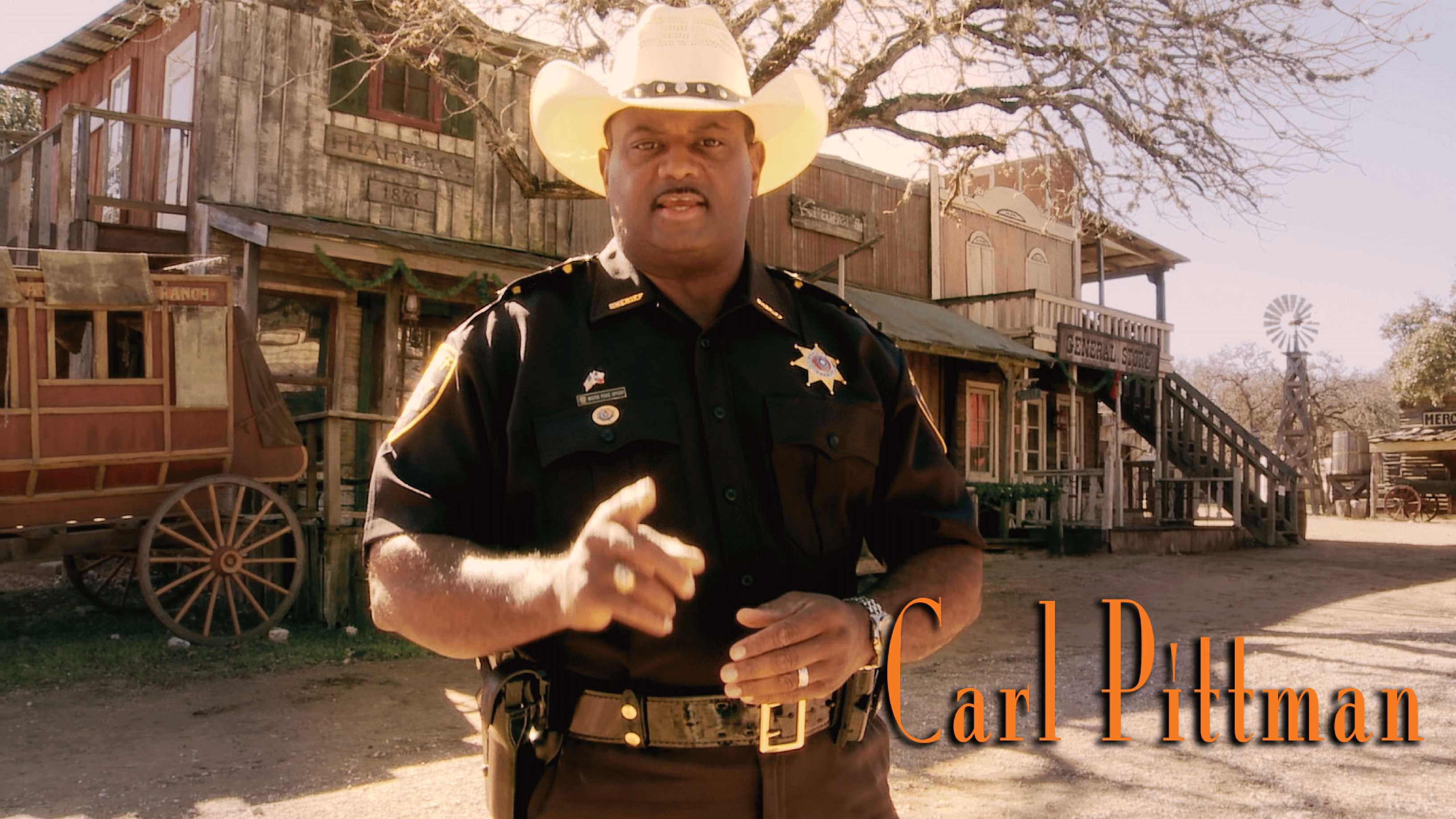 Biography
Carl Pittman was born, August5, 1963 in Fulshear, Texas, with the help of a mid-wife in the very same house in which he was to grow up. This little two room shack was the home where Carl experienced some very humbling circusmtances, and it also helped Carl forge a determination to excel in life. With the death of his father in 1970 Carl and his two sisters were raised by their mother. It was a challenging time for the family, with no running water in the little tin roofed house until 1978, and no air conditioniing – just a wood burning stove and couple of window fans. Carl became all too acquainted with many of the hard realities of life. The annual crops (be it cotton or peacans) were the work of the day for Carl and his family. Having to put schools clothes on lay-away was just the way it was. Seeing his mother, with only a third grade education, toil so hard to suport the family motivated Carl to succeed and to hope that one day he could rise to a position where he could take care of her in a manner worthy of devotion she had given him, despite their economic trials. That however, was not God's plan and Carl lost his mother in August of 1985.
Carl had joined the United States Marine Corps in July 1981 as an Infantry Marine serving with the 3rd Battalion, 5th Marines of the 1st Marine Division at Camp Pendleton, California. After being honorably discharged in July of 1985 he joined the San Diego Police Department and graduated from the 103rd Regional San Diego Police Academy on November 11, 1985. Carl completed the one year period to obtain his P.O.S.T Certificate as a commissioned peace officer and then joined the National City Police Department in August of 1986. National City, California is approximatedly 7 square miles and is located immediately south of the city of San Diego on the Interstate 5 corridor and approximately 14 miles north of the busiest international border in the world at Tijuana, Mexico. Carl's small town background served him well, and normal duties as a patrol officer brought plenty of experience in dealing with illegal immigrants and the United States Border Patrol.
Carl's experience with the local black and Hispanic gangs and the Mexican Mafia "La Eme" led im to become a California Superior Court qualified expert on gangs and narcotics. Carl was on the fast track with the NCPD and after only two years on patrol, he applied and was accepted into the Traffic Division and became certified as a Traffic Accident Investigator. Carl then applied for and was accepted as Motorcycle Traffic Enforcement Officer. In 1990 Carl was reassigned as a detective to a Federal Task Force; Jurisdictions Unified for Drug & Gang Enforcement (J.U.D.G.E). This task force was charged with monitoring and enforcement actions against the "worst of the worst" paroled drug and gang offenders and assisted with investigations into gang-related homicides in San Diego County, California. Carl also worked undercover in narcotics stings. While in the assignment Carl tested and was promoted in just five years to the rank of Sergeant in1991 and returned from the task force to NCPD and assumed his new duties as a patrol sergeant and assistant watch commander. On the ground in Southern California as a patrol sergeant during the Los Angeles Rodney King riots, Carl witnessed upfront this single event which changed the world of law enforcement forever.
A business opportunity in mortgage banking convnced Carl that a career change was in order. Carl was licensed as a Real Estate/Mortgage Loan Officer in 1993 and later as a Real Estate and Mortgage Broker in late 1996 and formed The Pittman Company in early 1997. Carl's common sense approach to business and his ability to bring people and transactions together created a formidable company which sold and financed tens of millions of dollars in real estate.
However, Carl never forgot his roots as native Texan and his love of law enforcement and wanted to come home. In early 2001 Carl became licensed as a Texas Real Estate Broker. He also passed the Texas Commission on Law Enforcement(TCLEOSE) and was licensed as a Texas peace officer. In July of 2001 Carl left San Diego and moved home to Katy, Texas and joined the Harris County Sheriff's Office on August 6, 2001. Carl holds a TCLEOSE Master Peace Officer Certification.
Carl's career with the Harris County Sheriff's office has been fulfilling and has allowed him to work in the Detentions Bureau of both of the Harris County Sheriff jail locations, the Human Resources Bureau as a Background Investigator and as an additional responsibility, was placed in charge of all new hire orientation during his time in Human Resources. In mid 2004 Carl was assigned to the Internal Affairs Division of the Harris County Sheriff's Office. Carl has, since September 2007, been assigned to the Criminal Investigations Bureau as a Burglary and Theft Investigator. "I have worked with some of the most dedicated men and women in law enforcement on the HCSO and believe that the experience needed to build and experienced, competent command staff from within is presently on staff."
Carl has an in depth knowledge and passion for the profession of law enforcement. As as experienced peace officer and business man, Carl will bring leadership and management experience to that Harris County Sheriff's Office. Carl has an understanding that accountability is two-sided coin. An agency must be accountable to its community and employees just as the employee is held eqaully accountable.Transparency is just a word if there is no substance to it. Treating all people fairly is a trait that Carl cannot overemphasize. The most valuable asset of any zzzzvorganization is its people. Carl understands that the Harris County Sheriff must do everything in his power to help create a respectful professional working relationship with the Harris County Commissioner's Court and other elected and appointed officials. Law enforcement is a partnership and operates optimally within the framework of a team. Carl believes that the individual that holds the sheriff's position must obey the law just as the department's employees are expected to obey the law. Public trust is earned when it is evident that those empowered to enforce the law obey the law themselves. Carl looks forward to hearing your law enforcement concerns as he gains your support as the next sheriff of Harris County!